Ia baru di Malaysia,lama di Korea-Coway Mattres Care Services
April 07, 2019
Baru-baru ini Coway launch new product/services yang akan masuk pasaran Malaysia.Iaitu servis tilam anda.Kedengaran lucu kan?Masa irda dengar buat pertama kali tentang produk tersebut,berkerut juga dahi(yang memang suka berkerut kalau hati berkata-kata)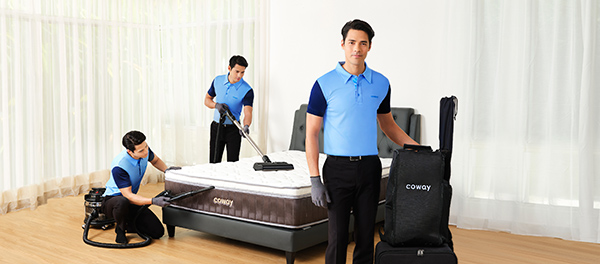 Servis tilam?biar betul?Macam mana tu,tak pernah dibuat dek orang tu.Haaa yang tak pernah tuelah idea business yang baik sebenarnya.Bayangkan jika dulu-dulu,kalau anak kecil terkencing malam atas tilam,atau ada baby termuntah,mungkin juga poopo atas tilam,paling pun kita spray dengan anti kuman atau ada juga yang cuba jemur di bawah panas matahari,
Tetapi orang sekarang?Nak jemur tilam?alahai rumah pun dah tiada ruang untuk jemur tilam apalagi hari-hari orang sibuk nak keluar rumah,belum lagi ditambah musim hujan,alamat nak jemur tilam tu macam suatu kerja yang mustahil sahaja bunyinya.Kalau tinggal di rumah kampung,dulu-dulu masih teringat tilam yang berat tu diusung ke laman rumah,bila panas terik,siap tepuk-tepuk dengan kayu keras biar keluar semua habuk hama dan bakteria.
Seiring zaman,sekarang orang dah canggih.Kalau air tak perlu lagi dijerang,cukup tekan sahaja,apalagi dengan adanya tilam dan servis tilam dari Coway ini rasanya memang menjadi satu keperluan untuk rakyat Malaysia.
Banyak penyakit kulit berpunca dari tempat tidur.Seperti hama menyebabkan allergik dan skabies.Serius,seriau teringat hama yang kecil yang mungkin beranak pinak dalam tilam kita tunggu masa nak menyerang kita.
Apa yang berlaku apabila habuk hama ni dibiarkan beranak pinak dan berumah tangga dalam tilam kita?Gambar rajah credit dari coway website ni boleh jadi pedoman kita bersama.
COWAY 7-STEP MATTRESS CARE SERVICES
Initial measuring of the mattress contamination level with filter paper and digital microscope.

Vacuum dust from bed frame with exclusive brush.

Wipe bed frame with wet/dry non-woven tissue.

Vacuum dust from sides of the mattress using a side-edged brush.

Clear dust and contaminants with vacuum of strong suction power equipped with HEPA filter.

Spray of dust mite repellent to reduce the growth of dust mite.

Apply UV sterilisation to further inhibit the growth of bacteria and to sanitise the mattress.
info credit to coway website.
HARGA SERVIS?
1-time service
*single-RM175
*Queen-RM220
*King-RM240
1-year service package
*single-RM 473
*Queen-RM 594
*King-RM 648
Harga itu adalah sehingga tarikh hari ini,kalau esok-esok ada perubahan mungkin boleh semak di coway website.
Irda juga berkesempatan melihat secara depan mata ketika Homecare Technician (HT) yang menggunakan kelengkapan terkini memberi servis mattress care servis minggu lepas.
Irda share buat anda pembaca juga ya.
Appreciate your time reading this entry.